Written by Tessa Lawrence & Reviewed by Nicole Fernandes
Living alone can be challenging for the elderly. Elderly people who choose to live alone may experience social isolation, reduced mobility, and accessibility issues. Providing our loved ones with helpful tools to support their independence can ensure that seniors have the items they need to lead healthy and happy lifestyles. Whether it's adaptive clothing, assistive technology, or at-home modifications, there are many ways we can assist elderly people in achieving independence! In this blog, we will discuss eight helpful items that can be used to support elderly people living alone. 
Voice Activated Technology
Living alone can increase the risk of loneliness in elderly people. Studies, such as a report from the National Academies of Sciences, Engineering, and Medicine (NASEM), have highlighted the negative consequences of social isolation on the well-being of the elderly. The report indicates that social isolation is associated with a 50% increased risk of developing dementia, a condition that severely affects cognitive function. Thankfully, there are technological tools that can help reduce feelings of social isolation and encourage social connectedness in elderly people living alone.
A helpful item to achieve this is voice-activated technology. Voice-activated technology like the Amazon Echo allows elderly people to listen to news and audiobooks, set medication reminders, as well as inform them about upcoming events on their calendars. Perhaps the most important feature is the ability to interact with the technological companion and bond with the device. Once set up, older users simply have to vocally acknowledge the technology to activate it, simplifying any technological barriers that seniors could encounter. 
Voice-activated technology can be crucial to ensuring that elderly people living alone stay connected and active within their respective communities. The technological companion reduces social isolation and loneliness while supporting the independence of elderly people living alone. 
Adaptive Footwear 
Adaptive fashion is an essential tool for improving the accessibility of clothing for elderly people. Choosing the right footwear is key to reducing accessibility issues for seniors. This is particularly important for elderly people living alone as standard footwear can be a hassle to put on and remove without aid. Adaptive footwear may be particularly useful for seniors who suffer from foot disorders that restrict mobility like 
Arthritis

Plantar fasciitis

Bunions

Diabetes

Circulation issues
Shoes with generous cushioning throughout the insole and midsole are ideal for these disorders as the cushioning reduces the impact of walking. For example, these lightweight cushioned shoes with rear zipper access are the perfect go-to sneakers with their slip-resistant outsoles and wide-expanding toe-box depth that accommodate wider feet and absorb shock. Additionally, the rear zipper allows for easy access and removal for those with mobility issues. 
Adaptive footwear is key to supporting the independence of elderly people living alone. With the help of no-hassle shoes, seniors can achieve active and independent lifestyles in style.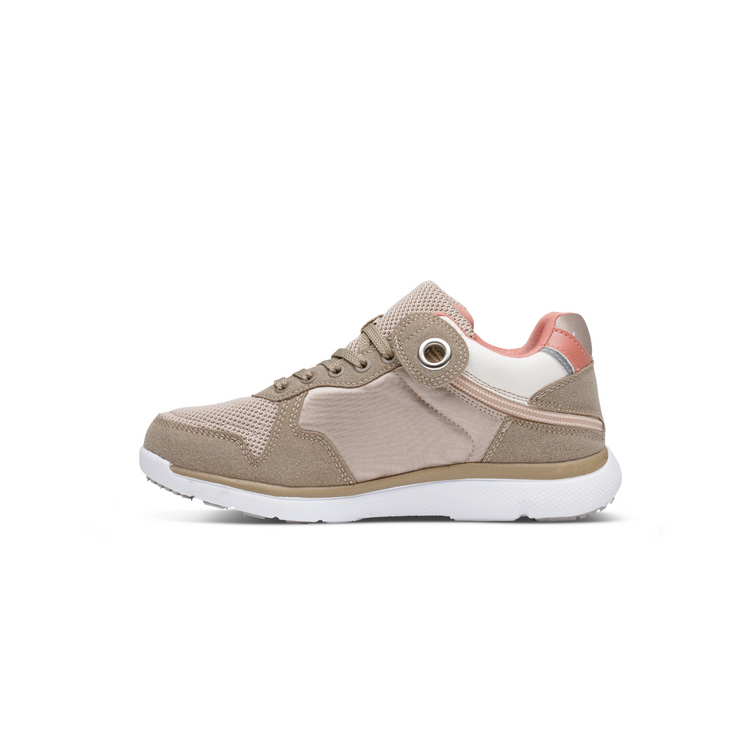 Non-Slip Bath Mats
Fall prevention is essential to keeping our loved ones safe. Old age can reduce balance and mobility, making the risk of falling incredibly high for seniors. According to the Centers for Disease Control and Prevention (CDC), 3 million elderly people are treated by medical staff for emergency fall injuries each year. This risk of injury is further increased for elderly people living without a caretaker, as they may be unable to access health care services or stay silent about any falling accidents. 
Ensuring the safety of elderly people living alone can always be a challenge. It is important to modify household items accordingly to prevent falling and help seniors feel protected within their homes. To prevent falling, it can be helpful to ensure that bathrooms are equipped with non-slip bath mats. Bathrooms generally pose the highest risk of falling as the slipperiest room in a household. Non-slip bath mats reduce the likelihood of slipping on the wet bathroom floor and provide a stable surface with suction cups to maintain a sturdy grip. Seniors can feel safe and protected in their bathrooms with no-slip bath mats. 
Adaptive Clothing 
Adaptive clothing uses innovative technology to provide elderly people with a seamless and effortless dressing experience. Elderly people living alone can feel confident and comfortable with clothing tailored to their abilities. 
Adaptive clothing styles that integrate magnetic buttons and easy access closures can make getting dressed less daunting for seniors without caretakers. June Adaptive has a wide range of accessible styles tailored to seniors living with arthritis, paralysis, and Parkinson's. The June Adaptive Mens Short Sleeve Shirt with Magnetic Buttons is a great choice for an everyday wearable shirt. The short sleeve is lined with discreet magnetic buttons to make dressing a functional and seamless experience. Additionally, the fabric blend is 100% breathable cotton to make every day for your loved ones a comfortable one. 
Consider implementing adaptive clothing into the wardrobes of your loved ones. This will reduce the stress of getting dressed and support their independence as elderly people living alone. 
Light Dumbells
Exercise is important for maintaining long-term mental and physical health. Regular exercise reduces symptoms of depression and anxiety which can help with seniors' feelings of social isolation. The CDC reports that daily exercise is key to growing stronger muscles and allowing seniors to maintain their independence in day-to-day activities. This means that exercise is vital for the independence of elderly people living alone! 
Lifting weights is a great way to build muscle strength at any fitness level. Light dumbbells can be a helpful tool for muscle-strengthening exercises aimed at seniors. Dumbbell exercises target major muscle groups in the back, chest, abdomen, and arms. There are different dumbbell weights suited to all levels of fitness, but beginners starting their muscle-strengthening journeys should start with lighter weights. 
Maintaining a routine for muscle-strengthening exercises helps seniors prevent muscle loss as they grow older. Remember that each fitness journey is different, but instituting the right fitness tools into the lifestyles of elderly people living alone can help to improve their physical independence! 
Comfortable Sleepwear 
A good night's sleep is critical to maintaining the well-being and cognition of seniors. Quality sleep can improve concentration, memory, and problem-solving abilities. Ensuring that elderly people are achieving peaceful and substantive amounts of sleep is important to replenishing their strengths. 
Comfortable sleepwear is a crucial investment for elderly individuals living alone. Wearing the right clothing to bed can facilitate a safer and cozier night-time experience. June Adaptive's Women's Knit Nightgown with Back Overlap is an excellent option for seniors who enjoy lounging in comfort. The Nightgown has a jersey knit with satin trim to prevent skin irritation with a guarantee of ultra-smooth fabric. Additionally, the full back overlap with two snaps on each shoulder ensures that pressure points will be avoided when reclining or sitting down. 
Adaptive sleepwear is suited for all abilities. Its accessible functions are beneficial to seniors living with disabilities or elderly individuals who are wheelchair dependent. The right sleepwear can also ensure comfort and ease for elderly people who may be living alone post-surgery or after hospital visitations. With the help of a good night's sleep, elderly people living alone can look forward to productive and enriching daytime activities.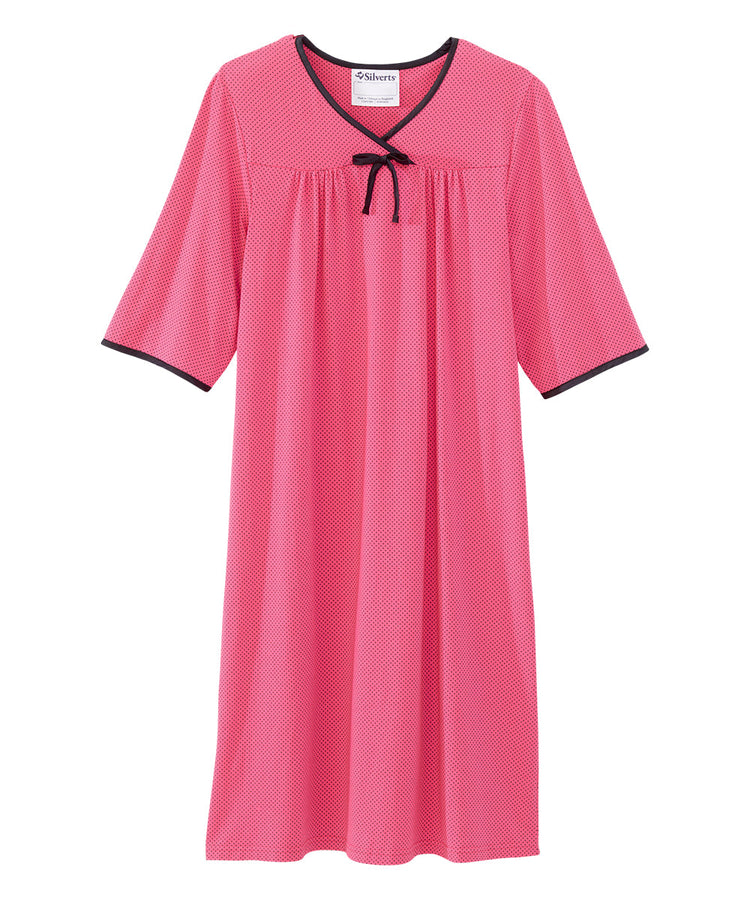 Medical Alert Systems
Medical alert systems or personal emergency response systems (PERS) can help elderly people living alone feel at ease. These monitors offer independence and reassurance that your loved ones are not only safe but in good health. Remember to consider your loved one's needs and abilities before purchasing a medical alert system. 
Certain medical alert systems are wearable devices with buttons that can be used to alert emergency services. Some have GPS, activity trackers, and movement sensors. Here are some important features to take into account when purchasing a medical alert system to fit the needs of your loved ones. 
Is the device comfortable? 

Do its service operations reach the entire house? 

Is the speaker loud enough for those with hearing issues? 

Can the system move with your loved ones? 

Will the technology require routine updates? 
Choosing the right medical alert system will help to give peace of mind to you and seniors living alone. 
Accessible Countertops
In certain cases, home modifications should be made to adapt to the physical capabilities of elderly people living alone. Making the household easily navigable and accessible is vital to supporting seniors with the tools to achieve independence. Home modifications are an important consideration when supporting the daily activities of elderly people living alone. 
For loved ones who enjoy cooking or baking, assuring they can easily access countertops in the kitchen is crucial. Higher countertops may hinder cooking abilities for those with limited mobility. Wheelchair-dependent seniors may need lower countertops to cook. Additionally, if the height is unsuitable to their needs, seniors could strain their backs leaning over the kitchen counter. 
To assure the comfort of elderly people living alone, consider modifying countertops by making them height adjustable. This helpful item will improve accessibility in the kitchen and aid elderly people in fulfilling their culinary passions! 
In conclusion, living alone can present challenges for the elderly, including social isolation, reduced mobility, and accessibility issues. However, numerous helpful items can support their independence and improve their overall well-being. From adaptive clothing to assistive technology, or at-home modifications, these tools will support them in their at-home journeys. 
By providing these helpful items, we can support our elderly loved ones in living healthy, happy, and independent lives.